ZZ Tree Removal & Stump Grinding
When you need tree removal services, hire a tree care professional with the skills, experience, and state-of-the-art equipment to do the job efficiently and safely. ZZ Tree Service has the insurance, certifications, and references to ensure your tree removal is done right.
how zz tree handles tree removals
Of course, we'd love to keep our trees forever, but sometimes it isn't possible to do so. Trees get damaged, they get sick, they get old, and sometimes they just outgrow their space. When you need to have a tree removed, ZZ Tree has the latest equipment to do the job safely, efficiently, and correctly.
When the tree has been taken down, we can haul it all away or chip it into mulch and leave it for you. And don't worry about the size of the tree - our large chipper can handle even large limbs and branches!
ZZ Tree Service always provides free quotes and straightforward pricing so you'll know what we'll do and what it will cost when we remove your tree.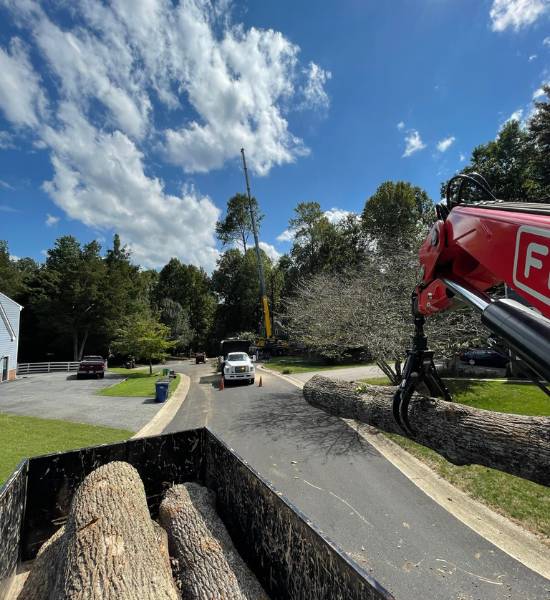 What To Expect From A
ZZ Tree Removal
Depending on the condition of the tree, its location, and what's nearby, the professional ZZ Tree team will use the appropriate method to remove your tree.
Removal Using A Crane
Mounted Grapple Saw
This is generally the safest and most efficient way to remove a tree. We use this technique when removing trees from tight spaces, such as between houses or other structures. The grapple saw allows us to safely remove the tree when there is no appropriate place to drop or lower branches as they're cut. This high-tech piece of equipment is a must-have when we need to remove dangerous, damaged, or dead trees that are too unsafe to climb.
We run our crane-mounted grapple saw remotely, and, in many cases, no climbing is required at all–this saves time and maximizes safety. This equipment also lessens the impact on your property and allows us to dismantle any tree within our reach with maximum efficiency.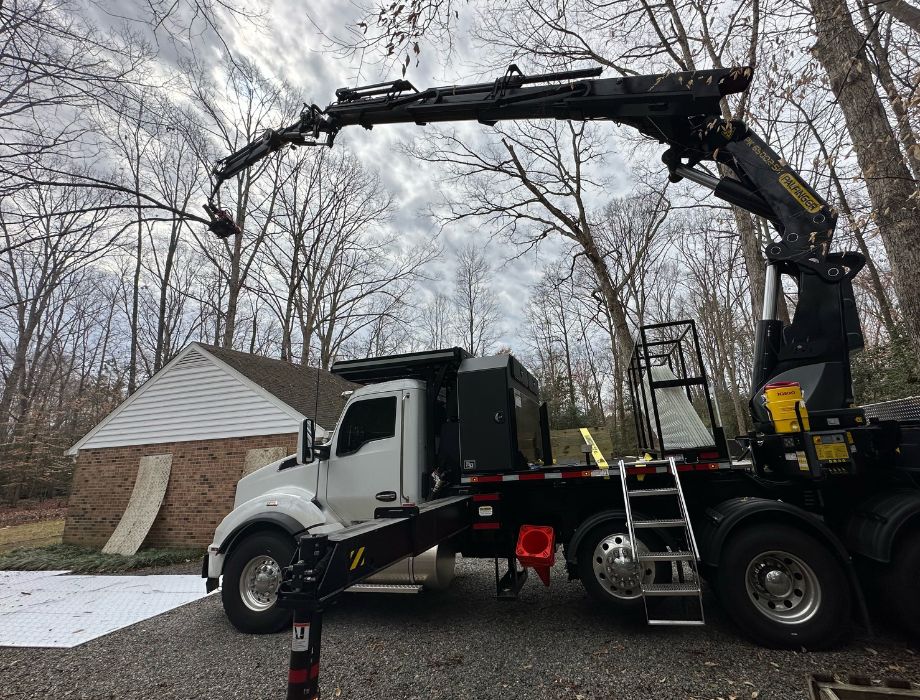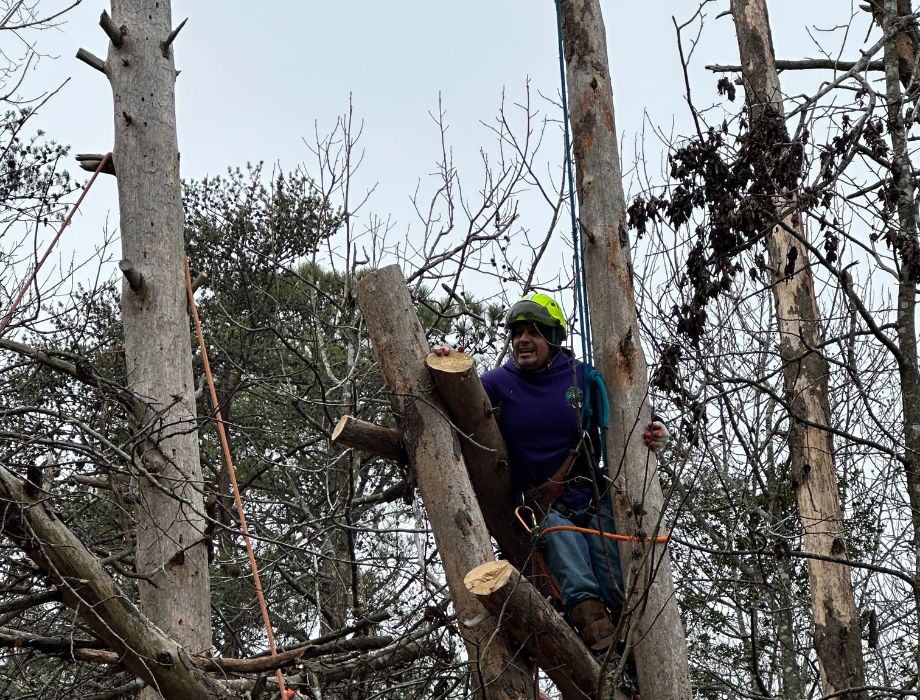 Tree Removal With a Climber
We may do this with or without crane assistance, depending on the situation. In either case, an experienced ZZ Tree climber will cut the tree into pieces that are then gently and safely lowered to the ground by our ground team or by crane.
When appropriate, we can remove a whole tree with a single cut, allowing the crane to lift it away in a single piece.
Our experienced climbers are highly trained and skilled, and they always prioritize safety.
Felling (or Dropping) a Tree
This type of tree removal requires a lot of space, something we don't always have much of in Virginia's urban and suburban neighborhoods. Felling involves making strategic cuts at the tree's base and letting the tree fall. When we fell a tree, we use various rigging and safety equipment to ensure it falls where it should.
If you have the space, felling is one of the easiest ways to remove a tree. We'll let you know if this is an option when we assess your tree.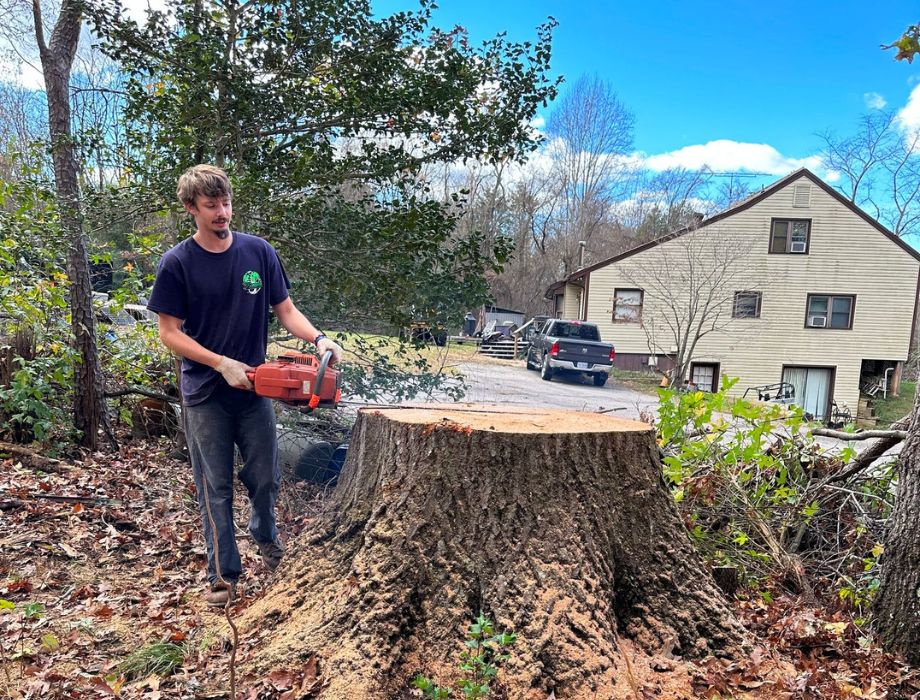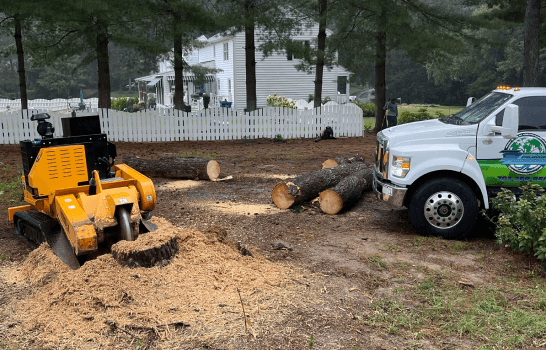 Even a highly skilled tree care company like ZZ Tree can't cut trees lower than the soil level. That's why we offer stump grinding as an additional service. We can eliminate the stump and make it look like it was never there!
ZZ Tree Service has two Carlton stump grinders that enable us to both handle large stumps and to allow passage through gates as narrow as 36 inches. After the stump is removed, you can opt to have the hole filled with topsoil and grass seed applied.
Let us know if you'd like stump grinding when we assess your tree.
A Few Words From Our
Happy Tree Removal Customers

We used ZZ Tree to remove two trees in our backyard. It's a hard to get to place and they carried all the branches and logs all the way to the chipper and truck. ZZ gave me the best price, came and did the job quickly, worked like crazy, and got it all done in one day. At the end my yard looked better than it did before they got there. I would definitely use them again!

Alan K.


ZZ Tree removed five large trees. They are definitely experts. The trees were very close to the house and the deck, and they managed to bring them all down safely. The job site was left very clean. They go above and beyond, and their prices are fair.

Jen S.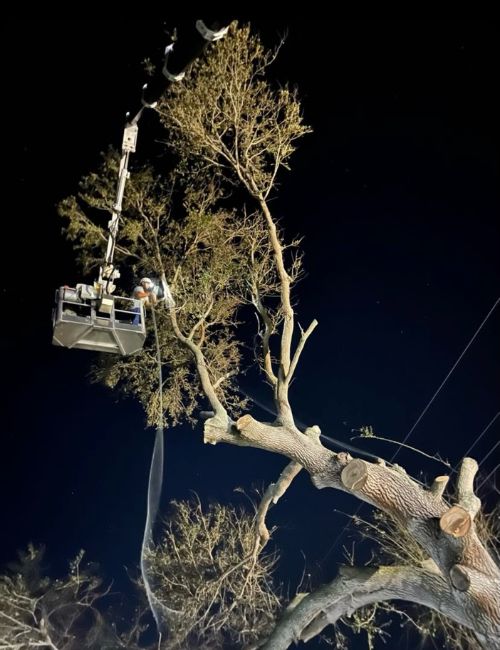 Why is ZZ Tree The
Best Choice
For Tree Removal
ZZ Tree is the premier tree service in Central & Northern Virginia. When you hire ZZ Tree, you're getting:
A highly skilled team of tree removal experts
A company with state-of-the-art heavy machinery and equipment
A company that puts safety first
Increased curb appeal
Excellent cleanup - leaving your property cleaner than we found it!
A fully insured tree service company (ask to see our Certificate of Insurance)
Contact us today for a free consultation
We're a 3rd generation tree service company with roots in the communities we serve. Let us increase the curb appeal of your property with our fast, efficient, and responsive service. We always offer straight forward pricing and free quotes.
Using a crane for tree removals is often faster and safer than other options. In some situations, such as a tree close to a building, power line, or other trees, it is the only realistic option. Using a crane can help us:
Remove tall(er) trees
Reach otherwise inaccessible areas
Complete the removal faster than by other methods
Keep everyone safe
When using a crane, the tree doesn't have to fall over (like when a tree is felled) or be cut apart, lowered to the ground, and carried away piece by piece. Instead, the tree is lifted out of the area vertically (one piece at a time). The ground crew then cuts the tree into logs and smaller pieces and uses a chipper to break down the branches into wood chips.
Many things go into tree removal, and there are many moving parts. We need to see the tree to determine, amongst other things, the tree's:
Size

Species

Health

Location

Proximity to power lines and utilities, buildings, roads, etc.

Surrounding landscape
Once we can see the tree for ourselves, we can determine what equipment is needed, which crew can most efficiently do the job, and more.
In most cases, we can remove multiple trees as part of the same job. It depends on how many trees need to be cut down, where they are on your property, the weather that day, the crew availability, and other factors. Removing several trees at once can be preferable as it takes time to set up the equipment, schedule the crews, etc.
Call us for more details at 804-688-7099
A grapple saw is a state-of-the-art saw, often attached to a crane or boom arm, that allows us to remove trees even more quickly, efficiently, and safely. It is remotely controlled and cuts, grabs, and removes sections of a tree during removal.
Stump grinding is a separate service that can be added to your tree removal quote. Be sure to let our estimator know you'd like the stump ground away when they're discussing options with you.
While we do offer stump grinding, we do not offer stump removal (which usually involves digging or pulling out the stump, including the roots).
We always do our best to protect your landscape during tree work. For example, we place special mats on the ground to distribute the weight of our heavy equipment.
Our estimator will discuss potential issues with you during the initial site visit so you understand what might happen.
Topping (also called hatracking) does not make a tree smaller. Although it may initially look smaller, a topped tree responds by quickly putting out a LOT of new, weakly attached (unsafe) growth. You'll be trapped in a vicious cycle of having to cut off more and more of your tree every year to try to keep it small - and the tree will push out more growth every year until it runs out of energy and dies.
We do not top trees. No reputable tree service uses this outdated and ineffective "pruning" method.
Much of tree removal is the planning that takes place beforehand. The ZZ Tree crew will take some time planning exactly how to remove the tree and setting up the equipment, which includes stabilizing the crane.
Depending on which crane is being used and the tree's health, either a climber will climb the tree and work with the crane operator to remove sections of the tree piece by piece, or the grapple saw will remove the tree in sections by a sophisticated remote-controlled system.
Maybe. Sometimes that is the best way to remove a tree. For instance, the crane may be parked in front of the house when cutting down a tree in the backyard. But don't worry! The tree parts are very securely fastened before they are moved.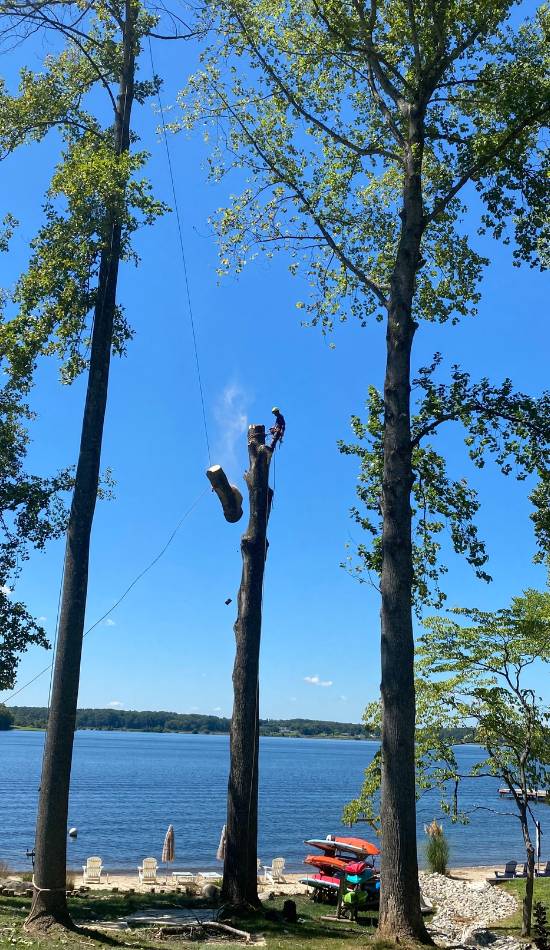 PROUDLY servING CENTRAL & NORTHERN VIRGINIA
ZZ Tree is centrally located and brings 3 generations of tree knowledge to the 540 area code and other areas of Virginia. Some of the towns we serve include:
Don't See Your Town Listed?