ZZ Tree PRUNING & TRIMMING
Regular pruning keeps your trees looking beautiful and keeps them structurally sound. Whether you need a light trim or a structural renovation, ZZ Tree can handle any pruning job in Virginia!
The ZZ Tree Pruning & Trimming
Process
Our professional team will meet with you to discuss your goals and your tree's needs. We'll assess the condition of your trees and inspect for any major signs of pests or disease.
Based on the consultation, we'll develop a plan to prune your trees. Our plan will outline the trimming strategy for each tree by identifying specific branches and limbs to remove for quick and efficient pruning.
It's time to implement the plan! The professionals at ZZ Tree will get to work pruning and trimming your trees. You should expect to see our crew working with pruning saws, chainsaws, and pole pruners to safely and carefully remove the necessary branches and limbs. And our chipper is big enough to handle even large branches.
You don't have to worry about a mess when the job is finished. ZZ Tree prides itself on a job well done, including removing all the debris, so it looks like we were never even there. Our customers say we leave their yards cleaner than when we found them!
Once the pruning and trimming are completed, our professional team can offer advice such as fertilization and watering recommendations, as well as discuss a regular pruning schedule to keep your newly pruned trees looking great year after year!
Ready for a tree pruning quote?
We offer service in Central & Northern Virginia from Culpeper to Fredericksburg to Short Pump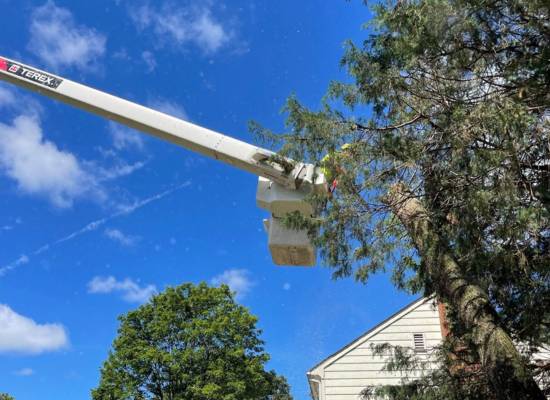 This question seems straightforward, but it's more complicated than you think. Pruning and trimming are terms often used interchangeably– we here at ZZ Tree prefer the term "pruning"– but there is technically a difference between them.
Pruning is generally described as removing diseased or dead branches and thinning out and shaping the tree. Pruning increases overall health and strength while improving the general appearance.
Trimming is a technique to maintain a tree's overall size and shape. An example of trimming is when you or your neighbor trim your hedge to a predetermined height and shape. The cuts in this example aren't done strategically with the growth and health of the plant in mind, just the size and shape.
Rest assured that though people use the terms pruning and trimming interchangeably, the team at ZZ Tree are highly-skilled experts in all aspects of pruning and trimming and will always employ the appropriate pruning strategy for your trees.
And when it comes to hauling away branches and other green waste–it's almost always included in the price!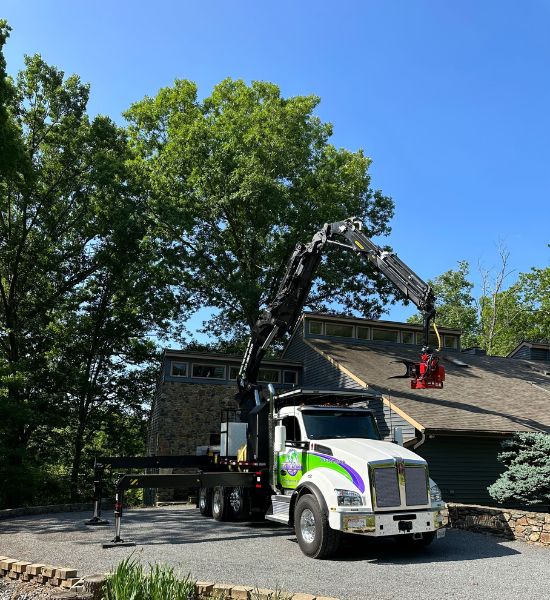 Zack was a pleasure to work with. He provided proof of his license and insurance, beat the price of other companies, did a great job, and even covered plants to protect them as the limbs he cut were lowered to the ground.

David M.


These guys are amazing! They were prompt, courteous, and most importantly, REASONABLE!!! They cleaned the property of all debris. I can't recommend them enough. I will definitely use them again.

Nikita W.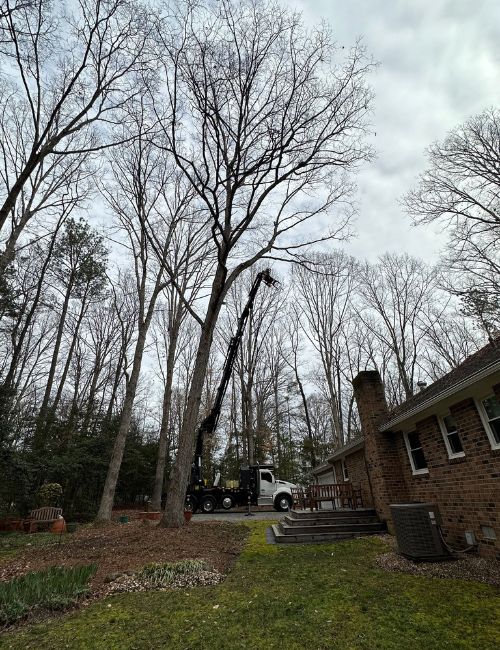 When you hire a local tree service company to prune or trim your trees, you want to hire a team that understands tree care and prioritizes customer service. With ZZ Tree, you're hiring a 3rd generation tree service that's well-known and trusted by homeowners and businesses across our region. Our customers value the fact that we provide the following:
Fast turnaround on quotes and service
A commitment to safety
Outstanding customer service
State-of-the-art tree service equipment
Full insurance to put your mind at ease (we're happy to show your our COI)
Straightforward pricing so you know what to expect
why do healthy trees need to be
pruned

?
Healthy trees need to be pruned to ensure they stay healthy. Removing excess branches and bulk and maintaining the best shape of your tree, you get the following benefits:
Limbs are less likely to fall and cause injury unexpectedly
Pruned trees are better able to handle the strong winds that come with our Virginia thunderstorms
Pruning healthy trees keeps your property free of potentially damaging branches and limbs
Regular pruning increases visibility and safety for cars and pedestrians
Pruning will keep your trees away from overhead utility lines that could result in fires or electrocution
Keeping your trees pruned and trimmed increases your curb appeal!

These guys are amazing! They were prompt, courteous, and most importantly, REASONABLE!!! They cleaned the property of all debris. I can't recommend them enough. I will definitely use them again.

Nikita W.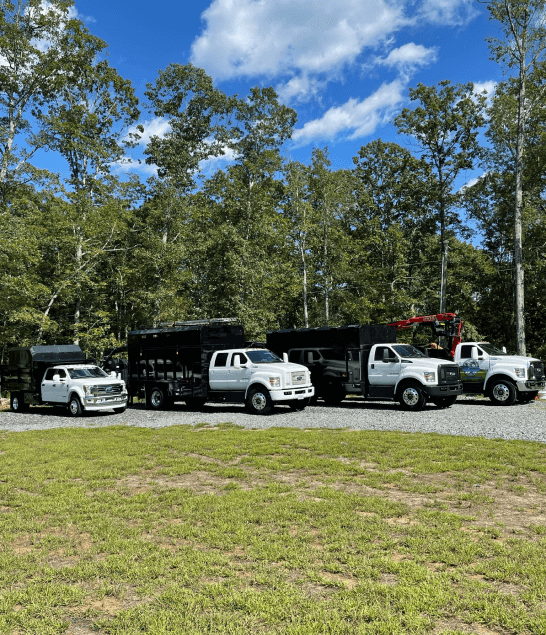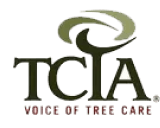 safety

matters at zz tree
If it seems like we say it over and over, it's because we do. And we're serious: ZZ Tree prioritizes safety. We're committed to keeping you, your property, and our team safe, starting when our estimator first steps foot on your property and only ending when the job is done and our crew goes home for the day.
Tree work is dangerous work, and that's why you need a professional tree company that doesn't just pay lip service to safety but a company that lives it every day. When you hire ZZ Tree, you can be confident that you're getting a tree service committed to safety while ensuring your job is completed efficiently and quickly.
tree pruning & trimming
Frequently Asked Questions
It depends on a number of things, such as the age of your tree, species, overall health, location, and more.
Generally, for mature trees, you will need to prune them every 3 to 5 years. Younger trees should be pruned every 2 to 3 years.
Hardwood trees should be inspected annually by a qualified professional to see if they need any trimming. Large canopy trees generally need to be pruned every 2 to 3 years. Still, an annual evaluation will allow you to quickly address any problems between major prunings.
Storm events may also cause damage that needs to be addressed immediately.
Often, you'll know when it's time to prune a tree.
For example, it may have an unattractive shape, branches may be hitting your roof, or low branches could block your view or obstruct traffic and pedestrians.
Perhaps you're seeing deadwood throughout the tree or broken or hanging branches that pose a safety risk.
Any time you think there may be a safety hazard, call ZZ Tree for a tree inspection. Safety is always a good reason to prune a tree!
We recommend consulting a tree professional before trimming your own trees. An expert will know the proper methods to ensure your trees stay healthy and live a long life.It can also be dangerous work ifyou're trying to cut branches high above the ground. Never prune branches from a ladder, close topower lines of any kind, or by climbing the tree (unless you're properly tied in and wearing the right safety equipment).
When a tree should be pruned depends on many factors, including the tree species, its health, and your desired outcomes. However, winter is a good time for most trees, so it's generally safe to plan pruning during this timeframe.
Yes, you can! Winter is the dormant season for most plants and trees, making it an ideal pruning time.
Cold temperatures and short daylight hours usher in dormancy. Like hibernating animals, trees and shrubs turn their energy use down to its lowest setting and settle in to snooze until spring.
As a general rule, cutting off dead branches may help a tree, but every situation differs. When done correctly, cutting off a dead branch will allow the tree to focus on the healthy branches and promote more growth.
We do not top trees. Also called "hat-racking," this process of cutting trees is a recipe for disaster, including higher long-term costs, an ugly tree, and an early death for the tree.
Yes. Not only does pruning help your trees live a longer and healthier life, improves your property's curb appeal and increases your property value.
Pruning is essential in guiding young and medium-aged trees to develop good branch architecture. This reduces the chance of failure, especially when the Virginia weather gets nasty.
The type and size of the power line and proximity to the pruning we'll be doing dictate how we will approach performing the work. Any job that involves pruning near a power line requires a thorough inspection by one of our experienced professionals. We'll coordinate with the local power company to disconnect power to the line(s) in or near your tree if necessary.
Safety is always our first consideration when working near power lines, so we take extra care to ensure our crews are safe. This might mean that scheduling your pruning job will be delayed while we make proper arrangements with the power company.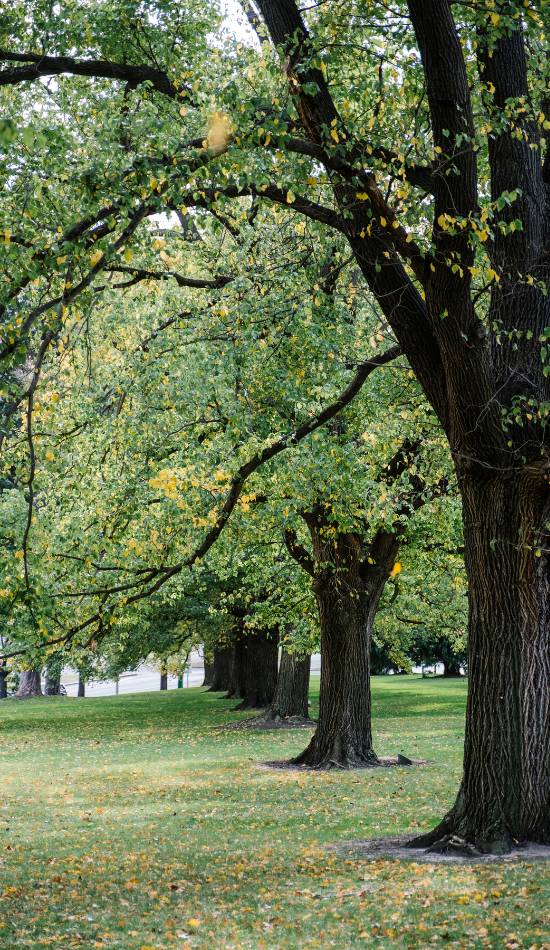 Subscribe to our newsletter
Want to stay on top of the latest tree care knowledge? Get tips, tree care reminders, and local info delivered directly to your inbox each month! You can unsubscribe at any time!
Subscribe To Our Newsletter
Subscription form for ActiveCampaign newsletter
"*" indicates required fields