ZZ Tree EMERGENCY TREE REMOVAL SERVICE
Do you have a tree service emergency that needs to be resolved ASAP? ZZ Tree offers 24/7 emergency tree removal and storm cleanup to help get things back to normal quickly and efficiently.
Summer thunderstorms, heavy spring rains, and other weather systems that rip through Central Virginia can batter our trees, sometimes with devastating results.
When severe weather hits, branches snap off, trees split apart, roots get ripped from the soil, and trees topple onto homes and cars.
When a tree has been damaged and requires emergency removal or pruning, it often requires immediate action.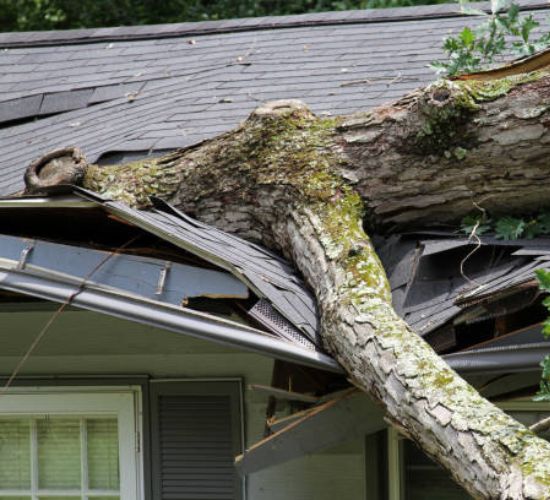 STORM-DAMAGED TREES ARE DANGEROUS!
Don't attempt to remove storm-damaged trees yourself - they can be highly unstable and dangerous. ZZ Tree uses specialized equipment and safety gear to take down these trees efficiently, appropriately, and safely.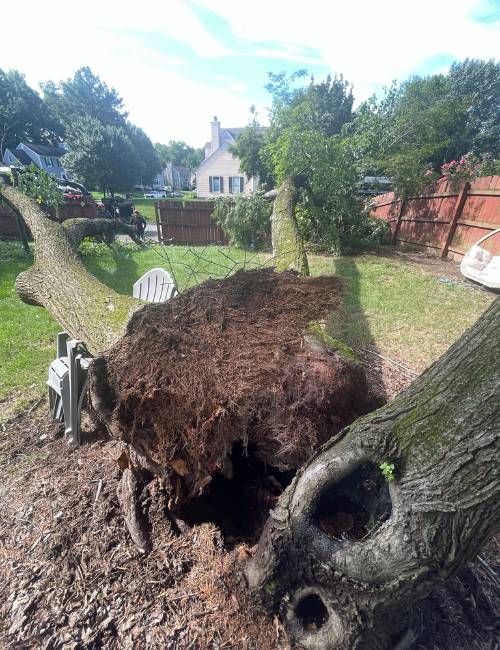 Why Call ZZ Tree For
Emergency Tree Service?
When you call ZZ Tree for emergency tree removal, you reach a highly-skilled, professional team who can handle any emergency safely and efficiently.
ZZ Tree is a 3rd generation tree company which means we know all about the kind of tree emergencies that can hit Central and Northern Virginia. You can count on ZZ Tree's responsive team to respond to your emergency promptly, and we always provide a thorough assessment and straightforward pricing.

They are an incredible team, working together professionally and giving their utmost attention to every detail to ensure the safety of my home.

Tracy E. Damaged and fallen trees are incredibly unpredictable and unsafe - please, NEVER do this yourself!
Our professional team is trained in all aspects of tree care, including emergency tree service. Let ZZ Tree be the experts you trust to handle your tree emergency quickly, efficiently, and safely.
Frequently Asked Questions
Call ZZ Tree for 24-hour emergency tree service. We recommend staying away from the tree to prevent injuries and additional damage. Don't try to remove storm-damaged trees yourself.
Contact us as soon as possible. Make sure everyone is safe and keep people and pets away from the damaged or downed tree. Some storm-damaged trees can be unstable so should be dealt with quickly and by a professional that has the equipment, skills, and experience necessary.
You can contact us for emergency tree service any time, even outside of business hours. If it is not an emergency, however, you will have to wait for your job to be scheduled as normal.
Things to look for may include (but are not limited to):
Cracks or breakage in any part of the tree

A tree that appears to be leaning (even slightly)

Loose ground or heaving soil around the base of the tree

Broken branches (some may be high or hidden in the tree's canopy)

Branches that are stuck in the tree but have broken off

Tree decay (this can make a tree more unstable but it's not always easy to identify decay)

An uprooted or fallen tree

Large, broken-off tree limbs
If you notice any of these things after a storm, contact us to assess your tree.
No, do not try to move or remove anything yourself. Storm-damaged trees can be very unstable and dangerous. It's better to wait; we have the equipment, experience, and skills to deal with these types of situations.
It's not possible to completely prevent storm damage, but there is a way to minimize it through preventative measures such as tree inspections, proper pruning, and keeping your trees as healthy as possible. A thorough assessment by a qualified tree care professional can help identify any areas of concern. Give us a call at 804-688-7099 and we'll be happy to set up an appointment to evaluate your trees.
Every emergency is different. For that reason, we can't estimate the length of time a job will take until we've been to the property and made an assessment. The severity of the emergency prioritizes emergency tree work, and we prioritize existing customers over first-time callers.
YES. We're happy to provide estimates and a Certificate of Insurance (COI) to your insurance company.